You need solid knowledge to choose the best windows for your project. But it will take you precious time to acquire this knowledge. That's why, to save you time, we've put together a comparison based on European aluminium and PVC windows that will explain when to choose aluminium and when to choose PVC.
Key informations:
If you are on a tight budget, and looking for a warm and economical system – choose PVC windows.
If you want to avoid scratching the frames during installation, want more durability and resilience, and want large glazing and a huge choice of colors – choose aluminum windows.
Read our ultimate comparison below to learn more!
From this article you will find out: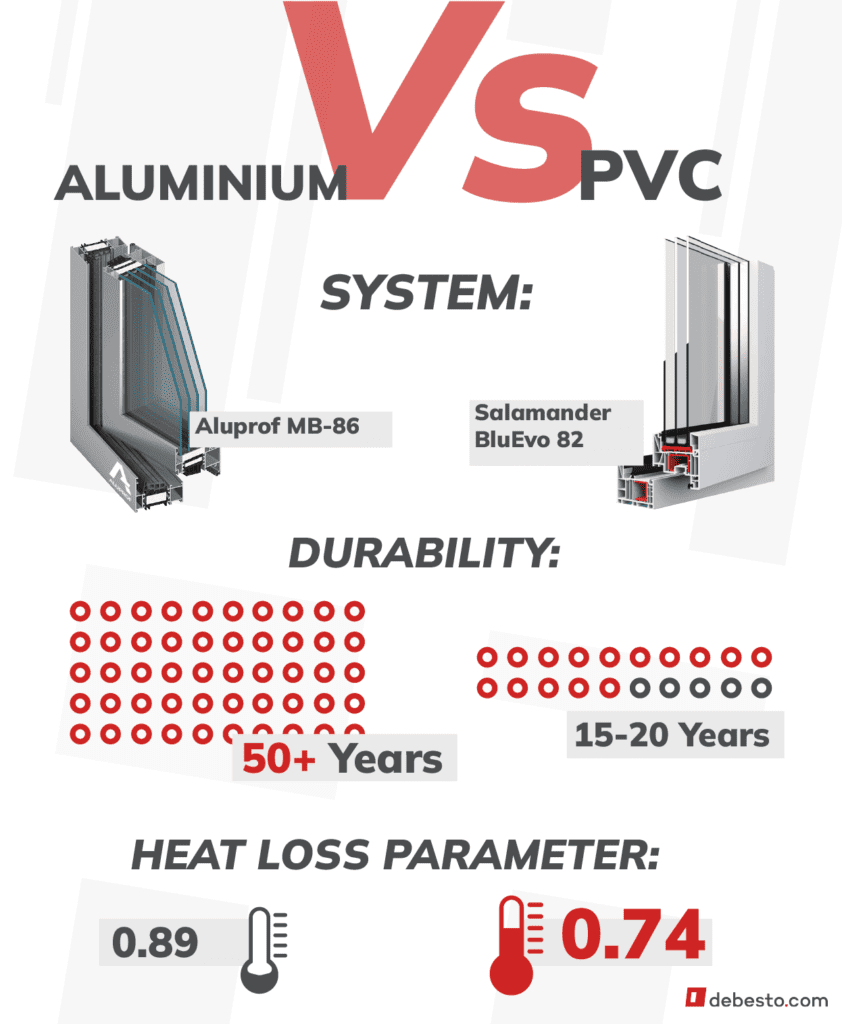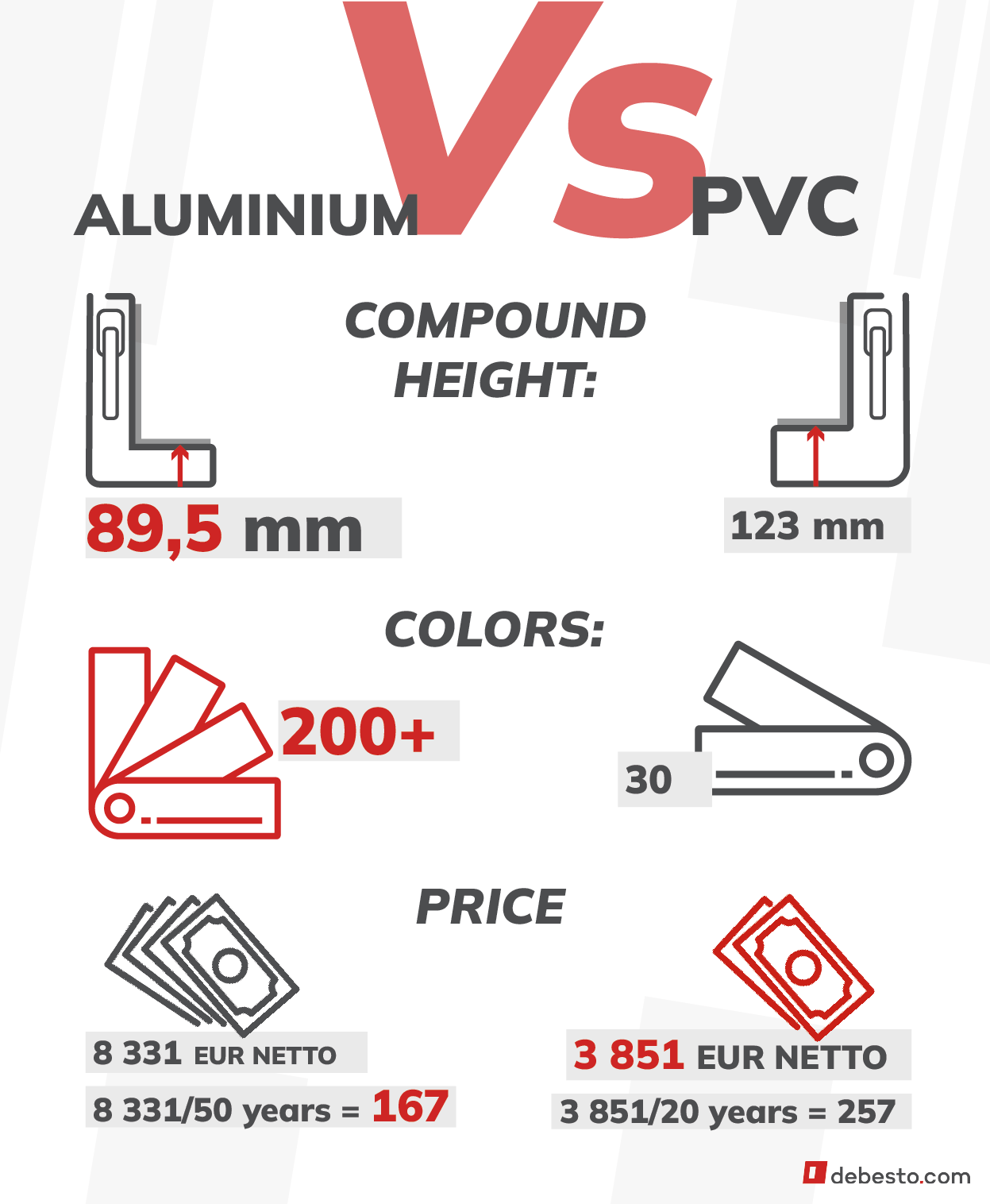 What is the price difference between aluminium and PVC windows?
The main factor that will influence whether your customer decides to buy PVC or aluminium windows is the price. And this varies significantly and, depending on the profiles being compared, the difference is between 70% and 200%. Aluminium windows are almost always more expensive than PVC.
We compared the same set of PVC and aluminium windows. For PVC, the Salamander BluEvo 82 system and for aluminium, the Aluprof MB-86.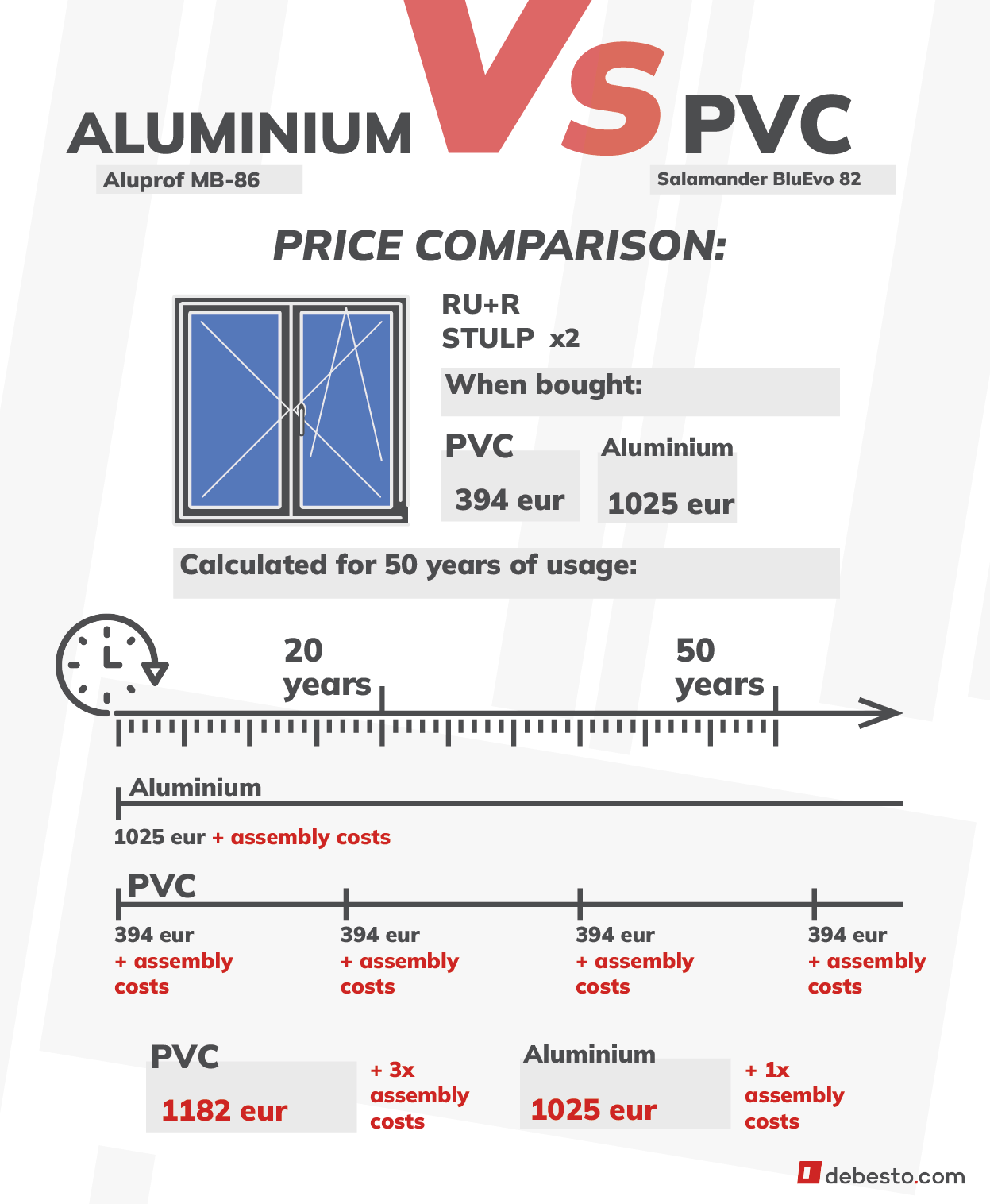 The difference is significant. If you build standard terraced houses for sale, PVC windows will be a better option. On the other hand, if you develop a building to a very high standard, it is worth using aluminium windows. Included in the cost of the windows is the expense of servicing, the frequency of which depends on the durability of the window.
Which windows are more durable?
"The window installers scratched the windows before they were even installed". – do you know it? If you're fed up with such problems and want peace of mind, you can choose more durable windows. We're talking about aluminium, which is more 'window installer-resistant' than PVC thanks to its hard coating. Any scratches or abrasions are much less visible and easier to hide.
The durability of windows is closely linked to the price. Why? A shorter window lifespan means more repairs and subsequent installations. The lifespan of PVC is estimated to be around 15-20 years, while aluminium windows retain their properties for up to 50 years due to their greater resistance to corrosion and sunlight.
Even a standard coating shows high resistance (also to sea salt), and there are coatings with increased resistance
PVC as a material loses its properties when exposed to weather conditions for a long time. If the PVC structure is too large, especially in a dark colour, the frame may bend and begin to cause problems. Aluminium windows are stiffer and more robust, so they will work well if the builder expects them to be extremely durable.
What are the differences in the heat loss parameter?
We could spend a lot of time comparing irrelevant differences between thermal parameters. But the question is, does it make business sense to consider small differences? In fact, two factors determine the choice of a window with a specific thermal performance: building law and the type of building.
Before proposing a window system to your investor, check what minimum Uw requirement you need to meet. As a general rule, PVC windows protect better against heat loss – they have a lower Uw parameter. The difference disappears when the window area increases because the thermal performance is mainly determined by the glass. However, at the end of the day, it is all about meeting the country's requirements at an attractive price.
See our example comparison of the thermal performance of two window sets: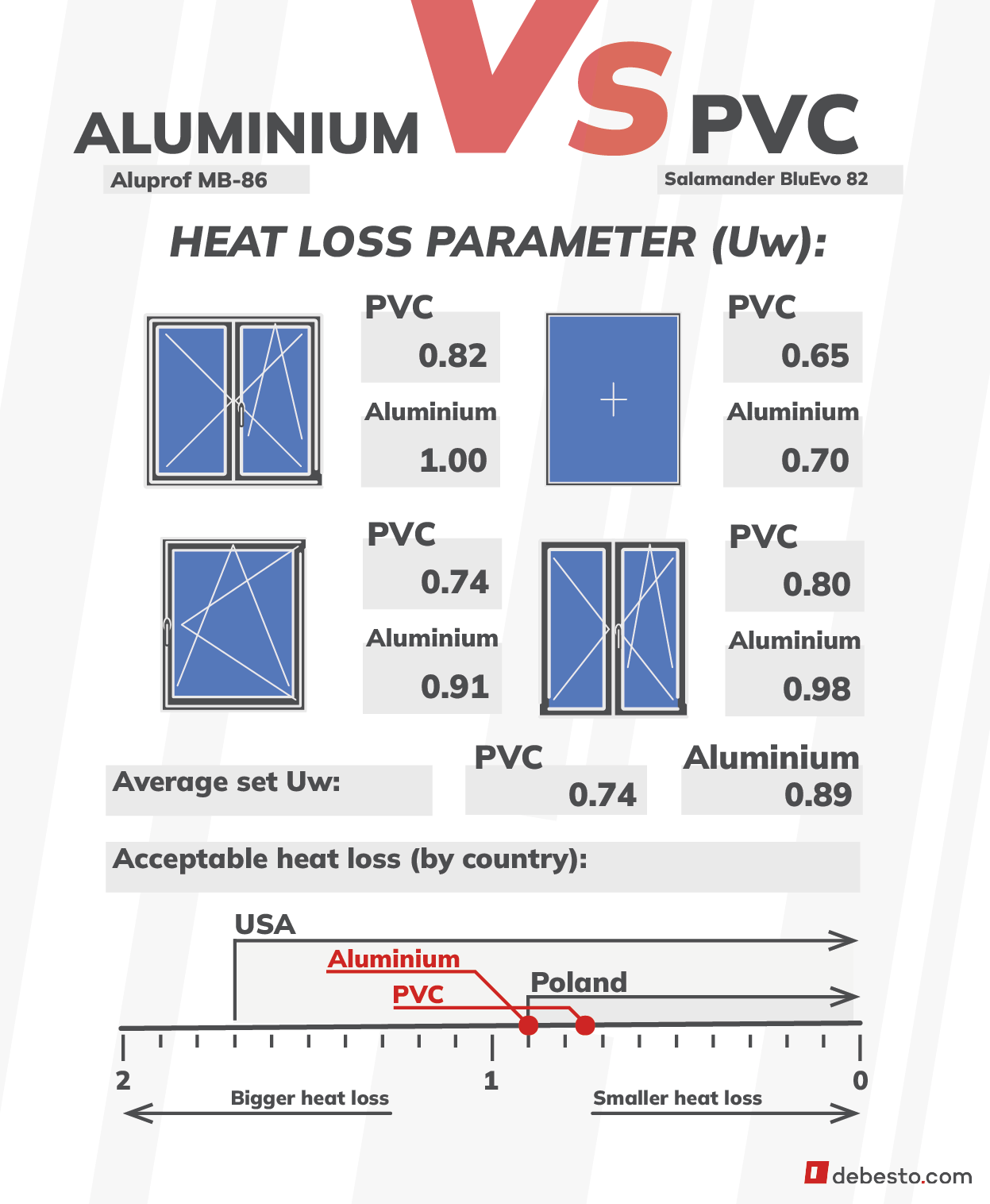 The Aluprof MB-86 profile is one of the warmer aluminium profiles, but if your investor needs an even lower Uw, you can offer him one of the passive aluminium systems, such as Aluprof MB-104 passive. However, you must remember that passive solutions involve higher costs. The question then arises about the cost-effectiveness ratio: how much will you pay extra and how much will you get in return for it?
It's another issue if you're building a house for yourself and you want to put windows in the showroom. Showing the window system 'live' can help you to negotiate with investors and get a better margin for your investment. Our customers often make their home a showroom and are then willing to pay extra for an even lower Uw than is required.
Which window will give more freedom to the architect?
What if your investor wants a non-standard window colour? PVC windows offer approx. 30 veneer colours and aluminium windows over 200 RAL colours (thanks to powder coating). However, they are more expensive.
What if your investor wants the look of aluminum, but the price is too high? You can offer him a PVC Gealan Linear window, advises debesto specialist Stanislav Bloszko. This is a frequent choice for our customers who want a better look and at the same time an attractive price.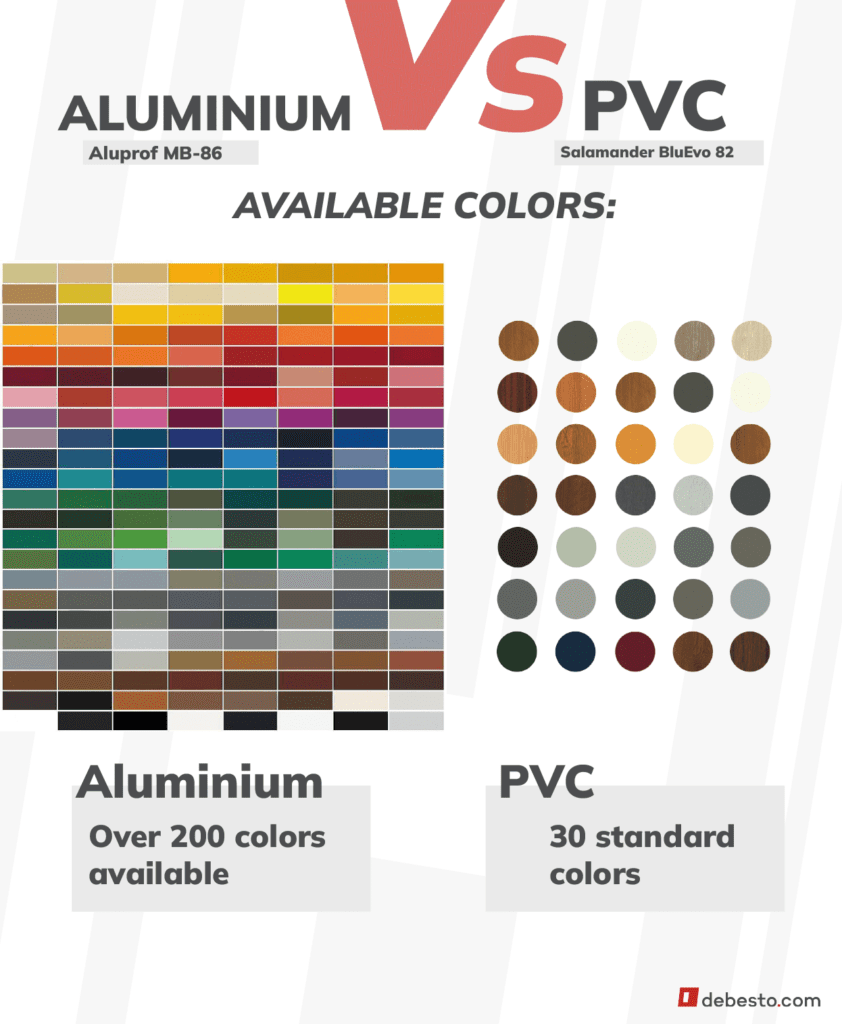 The aluminium window is considered to be more exclusive than PVC; it has a thin frame, offers greater configurability and lets more light into the room. This is due to its lighter weight and the possibility of a larger size.
Large windows – should you choose PVC or aluminium?
If a builder necessarily needs a very large window, then aluminium is probably the optimal choice. This doesn't mean that a big size can't be achieved with PVC. It depends on whether the builder wants one large glazing or whether a set of windows is acceptable.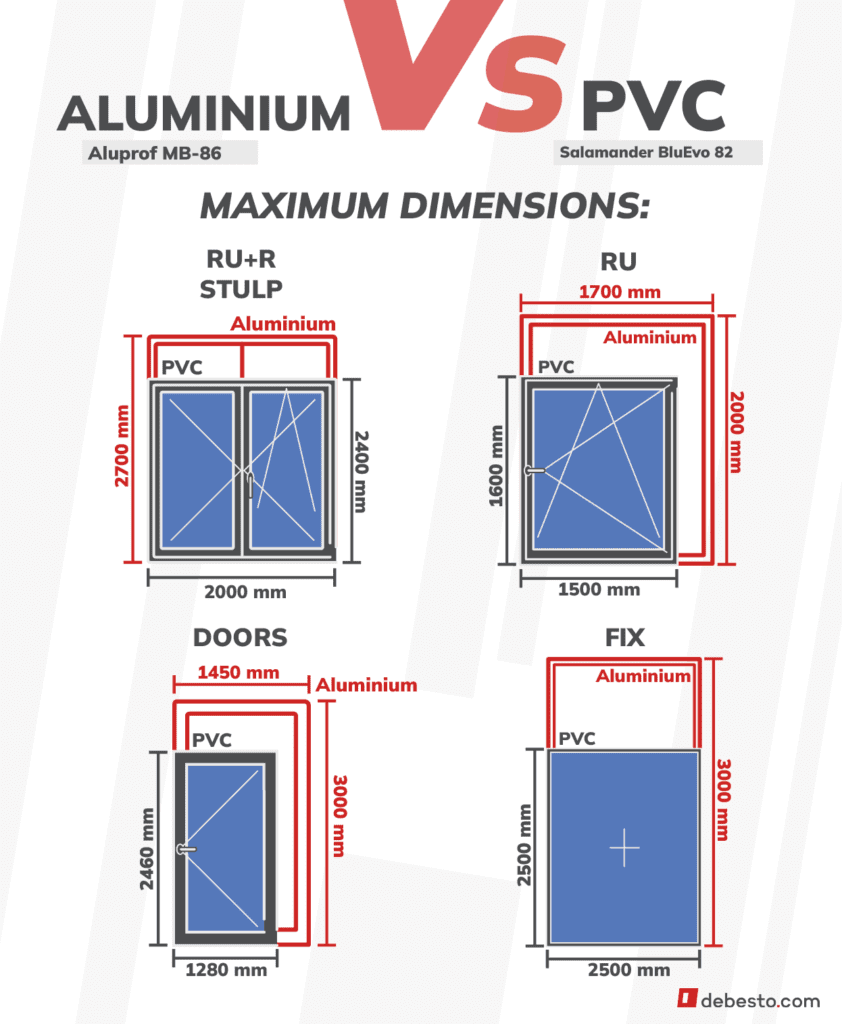 Let's find out the differences between the maximum dimensions of PVC and aluminium windows. In the case of tilt and turn windows made of PVC, we can achieve a maximum of 150 x 160 cm (2.4 m2 ), while in aluminium the limit dimensions are 170 x 200 cm (3.4 m2 ), which is over 40% more. In the case of sliding sash windows, the possibilities for aluminium and PVC differ by a considerable margin, as the aluminium window can be almost 70 per cent larger. For example, the PVC HST Aluplast 85MM window has maximum dimensions of 510 x 250 cm (12.75 m2), while the aluminium HST Aluprof MB-77 HS Monorail has maximum dimensions of 660 x 324 cm (21.38 m2).
It should be recalled that in PVC windows, steel is responsible for the statics of the structure, which is located inside the profile, whereas in aluminium, the frame itself provides the statics, so suppliers can make larger structures on aluminium profiles. Aluminium is more rigid and does not deform like PVC. In addition, it is lightweight and puts less strain on the hinges.
Is there an ideal solution?
You may have come across a proposal on the web for an 'ideal' solution that combines the properties of PVC and aluminium. It is about PVC windows with an aluminium overlay. We want to be honest with you. The cost of a PVC window with an aluminium overlay is not much less than just an aluminium window. Consider whether it is cost-effective for you to buy a PVC window and pay extra for cladding.
Which windows are better: PVC or aluminium? This question is asked in the wrong way. The question should be: which type of window is best for you? It depends on the purpose of your investment, what your budget is and what performance requirements you need to meet. If you want to find out what costs you have to take into account, you can simply use our online calculator.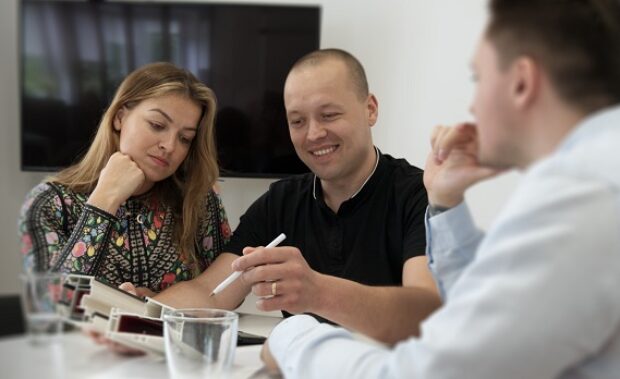 Get expert advice! Consult with our technologists for free. We will answer any of your questions. Save your time and money!
Consult your project for free