European windows delivery price to the US

We deliver windows
to any place in the US
We will deliver your order anywhere in the U.S. – to the construction site or port
ORDER

FULL-SERVICE
DELIVERY (DDP)

DELIVERY
TO THE SITE (DAP)

DELIVERY
TO THE PORT (CIF)

WHAT WILL WE DO
FOR YOU?



packing of goods


transport organization


import customs clearance


customs clearance


receipt of goods from the port


transport of goods to the construction site


return of the container to the port





packing of goods


transport organization


receipt of goods from the port


transport of goods to the construction site


returning the container to the port





packing of goods


organization of transport only to the designated port



WHAT WILL YOU BE
RESPONSIBLE FOR?



unloading the container at the construction site


payment of local tax





import customs clearance


duty payment


unloading the container at the construction site


payment of local tax





import customs clearance


duty payment


receipt of goods from the port


transport of goods to the construction site


unloading of the container at the construction site


return of the container to the port


payment of local tax



TIME-SAVING

★★★

★★

★
Scroll the table horizontally
Select the best delivery for you
ORDER

FULL-SERVICE
DELIVERY (DDP)

DELIVERY
TO THE SITE (DAP)

DELIVERY
TO THE PORT (CIF)

OVER $75100

$1990 *

$1990

$990

OVER $58000

$2990 *

$2990

$1990

UNDER $58000

$3990 *

$3990

$2990
Scroll the table horizontally
* Full-Service Delivery price is the cost of delivery to the site plus 7% of the value of the products in the order.
Additional information:
The average market price of shipping is $5500. By optimizing logistics processes, increasing our carrier base and combining the shipment of multiple orders, we have developed delivery prices lower, up to 80%.
The promotional price is the cost per each container.
Net prices are given in our price list for transportation of European windows from Poland.
The width of the longest shorter side of any construction specified in the order cannot be longer than 2350 mm.
Want to safely order windows for the US?
You will be helped by our experts –
technologists, business consultants and logistics specialists.
Project consultation
What kind of shipping to choose?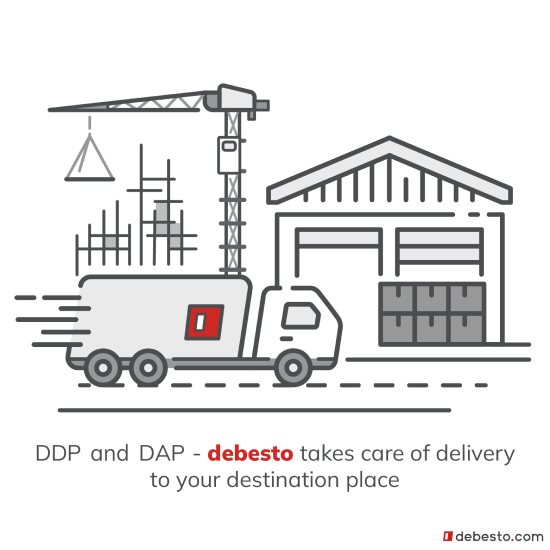 Full-Service Delivery (DDP Incoterms)
If you choose delivery on a DDP basis, this will be the most convenient solution for you, as you will only be responsible for unloading the goods from the container at the designated location. We will arrange all the transportation for you, cover customs duties and transport-related fees to deliver the goods to you ready for unloading. This is the most hassle-free way to transport!
Delivery to the construction site (DAP Incoterms)
Using DAP, the vendor arranges all transportation, handles export clearance and delivers the goods ready for unloading to the location you specify, paying all costs associated with this delivery. You are only responsible for import clearance, for covering applicable customs duties and taxes once the cargo reaches its destination, and for unloading the goods from the container at the site.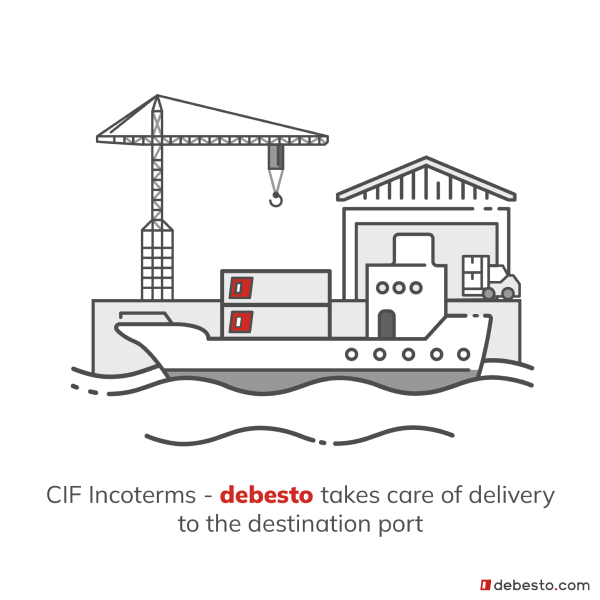 Delivery to port (CIF Incoterms)
CIF means that the seller, such as debesto.com, will only be responsible for the shipment until it arrives at the destination port. The shipment will be insured by him for sea transportation. After that point, you will be responsible for getting it to the construction site.

Learn about shipping from Poland to the US, what exactly you need to pay and how to save on it. Prepare for customs clearance and get a 0% VAT rate.
Read more
See how we pack windows
Want to know how we pack windows? As an entrepreneur, I know that it's hard to imagine what packed windows look like in transport, so I want to show you pictures of our realizations. You will see that at debesto we make sure the order in containers is packed compactly and safely. We take an individual approach – we pack in bulk, use racks or pallets, and secure the windows in place with foam. We wrap each window with stretch film. This way you won't feel that the windows have arrived from another continent.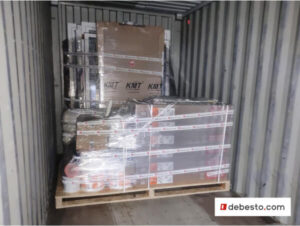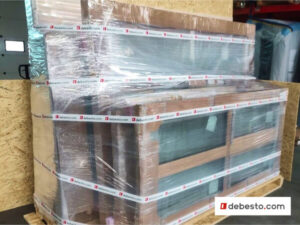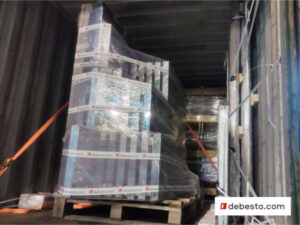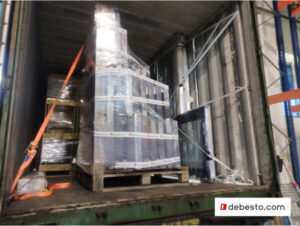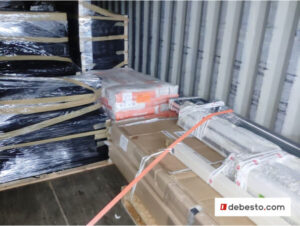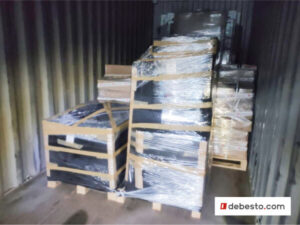 See how we have fulfilled past orders to the US, and see how much business owners in the construction industry have gained with us.
Case studies in the US
Frequently asked questions about transporting windows to the US