Aliplast Panorama Aluminium Window System
3rd place
in PRICE and PRICE/QUALITY category
see ranking

check terms of warranty
Production time
from 3 weeks
Meet Aliplast Panorama Aluminium  Window System
two types of thresholds: full and brush
the best thermal insulation among pleats Uw = 0.94
perfect for building a terrace or a winter garden
varnishing in the structure of Aliplast Wood Color
MaterialAluminium
BrandAliplast
Ug0.5
Uw0.97
Depth of frame74,5 mm
Depth of sash74,5 mm
Max. size of sash2,45 / 2,40 m
Max. weight of sash100 kg
Panes 2/3
Gaskets2
Warranty30/42
Aliplast Panorama bi-fold doors for whom? Opinion by debesto.com
In the opinion of debesto.com, the Aliplast Panorama folding door is a product for those who do not look for compromises. Aliplasta doors provide all the advantages of a accordion window along with the best thermal insulation in its class. Offer your client those windows if they are looking for warm folding doors. Uw = 0.97 is a rarity in this product group. All, however, thanks to the special thresholds available in Aliplast's offer. In addition to the typical brush threshold, you can also choose a full threshold, which increases the tightness of this system.

What type of end customer should be interested in Aliplast Panorama?
Recommend Aliplast Panorama folding doors to your client if he wants a wide and open passage from the house to the terrace or garden.
This solution is also recommended for all restaurant owners who want to remove barriers between the interior and the terrace.
Folding doors are also great for rooms that we want to separate temporarily. We have such a solution in the debesto.com office. Thanks to the installation of a harmonica instead of a partition wall, it is possible to obtain a large open space by connecting offices.

Aliplast Panorama In what cases is it worth considering another option?
Aliplast Panorama folding doors, despite their advantages, also have disadvantages. One of them is the low value of the maximum wing height. It is only 2.4 / 2.45 meters. When you want a higher folding door, choose: So Easy Decalu 88 Folding Door or Cortizo Bi-Fold Doors. For those who do not have enough funds for aluminum folding doors, it is also worth proposing such a solution based on PVC. Here, however, you have to remember about the limitations of the system, such as dimensions and durability. The use of PVC doors in commercial premises is definitely a bad solution.

More about the system provider of Aliplast Panorama aluminium window system
Manufacturer of aluminium systems. From its very beginnings, Aliplast was focused on its expansion and development, while maintaining the highest quality of the products offered, and designing new solutions for aluminium profile systems. Its sales dynamics, the constantly growing list of recipients from Poland and Europe have been noticed on the market. Aliplast has received many distinctions and prizes awarded by industry and business organisations.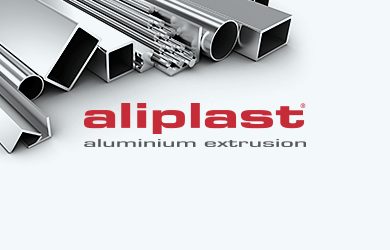 Sumarry of Aliplast Panorama Doors
An interesting solution with Polish roots. You can recommend this system to a client who is looking for windows with a fully open space and also focuses on very good thermal insulation. Among the harmonica available at debesto.com, Aliplast wins with the best thermal insulation Uw = 0.97. Remember, however, that this system has limitations on the maximum dimensions. In the case of a construction with a height of 2.45-2.8m check So Easy Decalu 88 Folding Door, and when your client has larger dimensions in his project, offer him Cortizo Bi-Fold Doors.
debesto.com – who are we and what do we do?
1.What will I gain from working with you?
First of all, you'll save your TIME. We will do the whole work with ordering doors, windows, gates, and blinds for you. Why should you outsource it to us? 
You will get products in a quality which was checked by us.
You don't have to worry about meeting the deadline or financial condition of the supplier - we order the production only to verified companies.
We'll find products that suit your needs - it doesn't matter if that are windows, wooden or aluminum doors, PCV, blinds, or garage doors.
One complete transport at a lower price instead of a few different ones will come to the place of investment.
You'll comfortably get everything done with one adviser, one invoice, one transfer, and only one place where you can (if necessary) make a complaint.
2. Does your company produce windows?
We aren't just a traditional producer. We order the production of doors, windows, gates, and blinds inside of a network of selected and verified suppliers in terms of production punctuality, their financial condition, and the quality of products. We call ourselves the broker on a polish joinery market.
We'll do all of the arduous work with ordering the joinery from Poland for you. We'll
choose relevant products at an affordable price, organise safe transport and we'll deliver the product to any address in the world.
3. Do you have any stationary representatives in other countries?
We do not have any branches in other countries. Our office and a magazine are in Poland in Oleśnica (30 km from Wrocław).
We overcome thousands of kilometers separating us from our clients owing to modern technologies. Thanks to that you'll save your money and time because we don't have to add any extra costs to the services or products to maintain expensive offices all over the world.
Delivery time, payment, installation, warranty
1. What is the delivery time on debesto.com?
The time of order processing is highly dependent on its specification. For example, white PCV windows, standard colors (anthracite on one side) can be ready for pick up or a shipment from 7 working days. The waiting time for nonstandard PCV colors is about 4 weeks depending on the color. The production time of PCV doors is also about 4 weeks. Aluminium doors and windows - from 3 weeks, wooden windows from 6 weeks. Furthermore, the blinds about 2 weeks, garage doors - about 3 weeks, metallic doors from 4 weeks. You'll find estimated production time next to every product on its subpage.
2. How does the payment look like? Do I have to pay the whole amount immediately?
We suggest two forms of payment: 1. 50% of advance for production of the product and 50% shall be paid before picking up/ sending the goods. 2. 100% payment in advance. This form is much more favorable because we give you an additional 5% discount depending on the group of products.
3. Will I buy the joinery with an installation on debesto.com?
No, on debesto.com we sell only windows, doors, blinds, and gates, which we deliver to every place in the world. The installation of the windows depends on the client. We do not offer installation service because our offer is not directed to the building companies, installers, developers, and realtors that can install the joinery by themselves.
4. If the windows would be installed by a different company, do the products keep the warranty?
Yes, the only condition is installing the product in accordance with the art of assembly and applicable standards in the country of the installation in terms of the warranty.
5. Do the products that I buy have a foreign warranty?
Yes, the only condition is installing the product in accordance with the art of assembly and applicable standards in the country of the installation in terms of the warranty.
Are my goods insured during transport?
Yes, the shipment is 100% safe. We deliver the goods only using certified forwarders with liability insurance for the transported goods. If the goods are damaged, we repair the damage so that the new goods reach you as soon as possible. Then we explain the situation with the carrier.