When PVC panel door is the best choice for your company? Which panel of entrance door should you choose: attachment or infill, to make your client fully satisfied? See the comparison of attachment and infill panel doors which will help you in your sale.
PVC entrance door it's a very popular product, particularly in Germany, but more often even in other countries. Framework is made of plastic sections, and panel is filled with polyurethane, what povides heat and good acoustic.
When and why should you advise PVC entrance doors ? 
When your client wants to have his doors of non-standard sizes.

When he is looking for premium entrance doors in a good price.

If you want to be sure that your client would be able to buy entrance doors in the same colour as his windows. 

When your client is looking for some classic models of entrance doors with a simple design. 
How to convince your client that PVC panel doors is a great alternative for standard doors?
He will be able to order his doors in any size.

If he chooses a steel door, he will have to choose the size of the door that fits the opening

He has a guarantee that he can buy his doors that matches to his window's colour.

He will pay less than for aluminium door, however he will be satisfied with very similar doors with prestige appearance. 

Chic and smart design and what is more, invisible hinges would be interesting for his wife too.
Filling- attachment or infill?
Remember that choosing the proper panel for your's client requirements and wishes is very important. It will reduce a risk of his dissatisfaction and affect on a final succes of investment.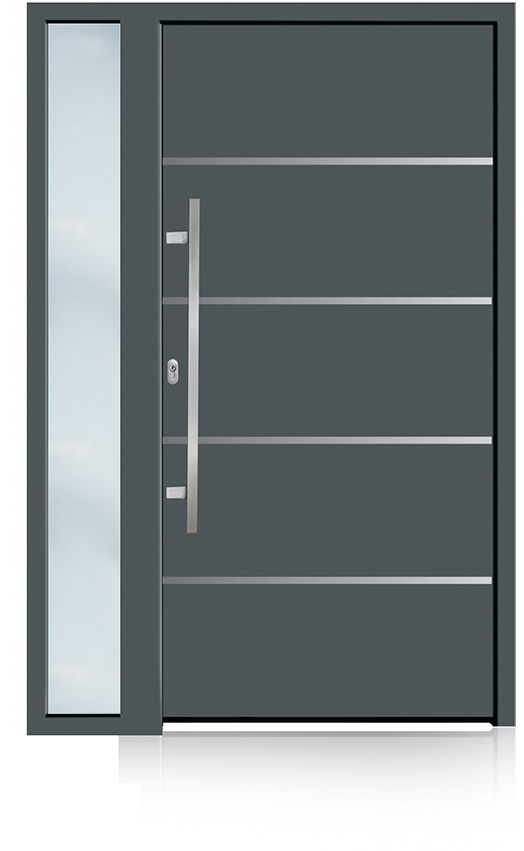 Comparison of PVC front doors
Here are some arguments, which you can use to help your client with choosing the best option for him.
What are the differences between attachment and infill panels?
thanks to the cover, the door has better thermal insulation

overlay panels look much more aesthetic

there are single-sided and double-sided overlay panels
higher price of a door with an overlay panel: a two-sided door is about 700 PLN more expensive, i.e. the price is about 16% higher than the input panel
Doors with attachment panel

Thermal isulation

Ud = 0.91

Appearance

High, flushed panel

PRICE

from 1272 EUR

Doors with infill panel

Thermal isulation

Ud = 1.03

Appearance

Low, visible input

PRICE

from 1103 EUR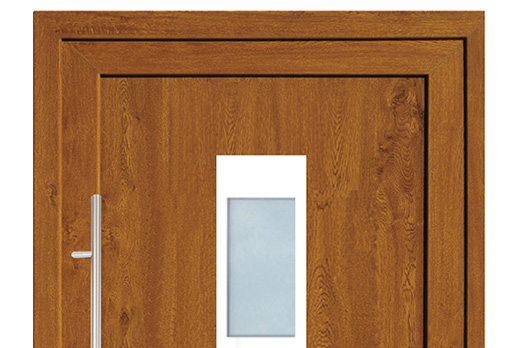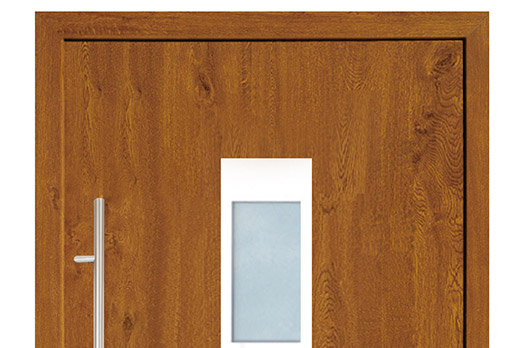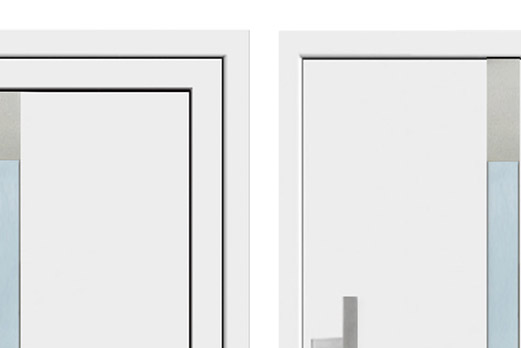 Contrary to the mistaken impression, the overlay panel, thanks to its frameless construction, does not increase safety at all. Both the hatch and overlay doors are just as safe. If the client wants to protect himself against the consequences of a burglary, a much better solution will be to invest in a professional alarm and insure his property.
Attachment panel – Is it worth to pay extra?
Despite the higher price, in our opinion, the overlay panel is above all more practical and aesthetic. First of all, it eliminates the disadvantages of doors made of insert panels.
Here are some reasons, why it is worth to pay more:
Attachment panel, provides higher comfort of usage. 
Cleaning of attachment doors is easier, surface of the doors is almost flat.
Attachment panel looks like a standard front doors in premium class.
If your client wants to save...
Yo can offer PVC doors with single-sided attachment panel. From the outside, doors will have a one aesthetic overlay, and inside an infill panel.
Which PVC doors should you choose- summary
The most important advantage of doors made of plastic is the possibility to choose any size, in which doors are prepared on order. It depends on client's decision, what type of panel should be chosen. Main differences- it's a matter of appearance, ease of cleaning and price.
A double-sided attachment panel is about 16% (double-sided) and about 8% (single-sided) more expensive than an infill panel, but offers better comfort of use and looks better. Client can choose his door's colour that is similar to a window woodwork that he has in his house. PVC doors has lower price than aluminium ones, and client will be satisfied with doors of similar or even of the same prestige.